In January 2019, I set ten goals for the Solidarity Apothecary. Like the rest of the world, many of these were knocked sideways by the coronavirus pandemic. We saw the world set on fire with uprisings and rebellions from the streets of Minneapolis to the squares of Belarus. The pandemic triggered a wave of mutual aid organising and prisoner solidarity campaigns to 'Free them All'. The politics of collective care, chronic illness and disability justice began to be talked about more than ever (as anyone knows how invisibilised these struggles often are in our ableist world). Meanwhile, state repression and surveillance grew and efforts of fascists and the far-right escalated.
What role does herbalism play in these revolutionary times?
This was the challenge for myself and others attempting to use plant medicines to materially support revolutionary struggles and communities to strengthen collective autonomy, self-defence and resilience to climate change, capitalism and state violence.
These were my efforts towards these ends in 2020.
(I apologise about the length of this post! It may be detailed but I feel like it is important to share what has taken place and be accountable to everyone who has donated and supported this work in different ways.)
1. Herbal solidarity against the border regime
This year, I made 8 trips to Calais in Northern France with Herbalists without Borders, totalling over two months in the 'jungle'. The mobile clinic offers preventative medicine, self-care support, first aid and healthcare access support. Since October 2019, we have supported 3891 refugees and migrants living rough in the region.
In March and April, we fundraised and made more than 6000 medicines – 1500 cough syrups, chest rubs, hand sanitisers and antimicrobial herbal vinegars for every refugee in the region. We also made and translated leaflets into five languages explaining the medicines and signposting to local hospitals for anyone with symptoms of COVID-19.
The pandemic dramatically reduced our team and the number of people that could join the clinic in-person (due to caring responsibilities or an inability to quarantine repeatedly after the trips etc). Every month it felt like there were new barriers and new risks that involved exhausting decision making personally and collectively.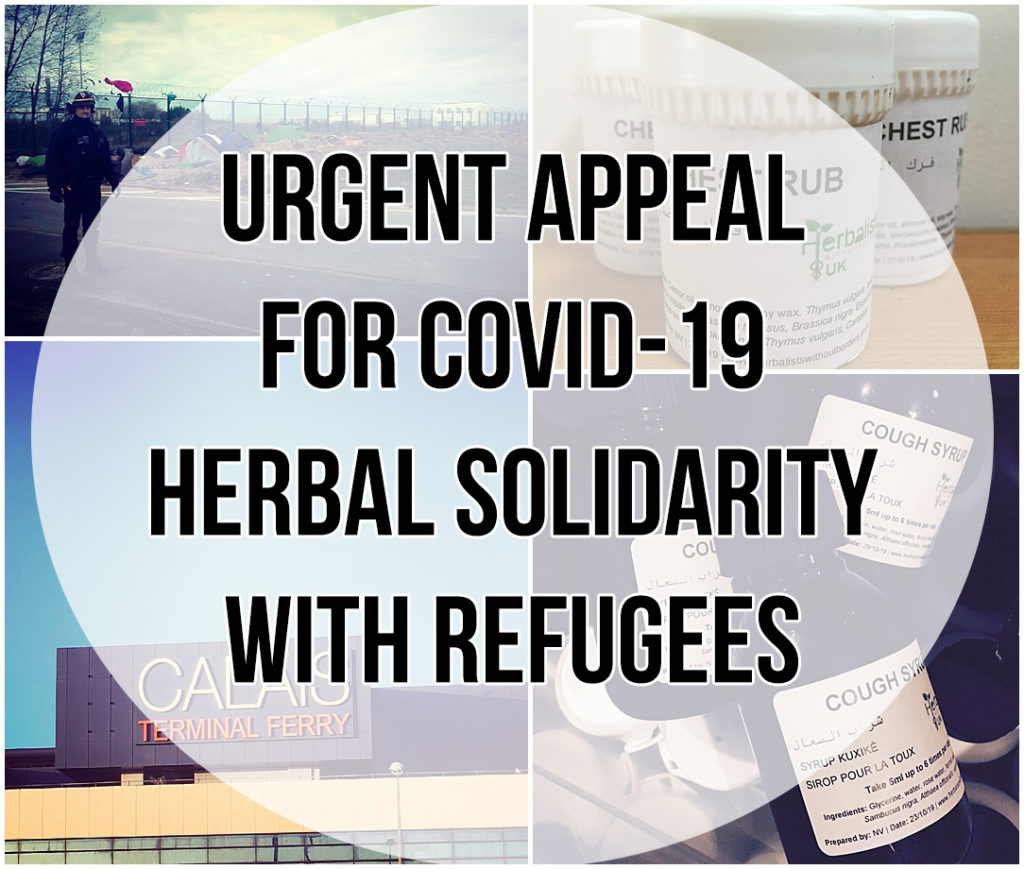 The conditions in the jungle worsened – increasing police violence, people being taken to containment centres, and a concerted effort for constant evictions and disruption. The number of people that could support in the region reduced massively, affecting the distribution of food and other supplies like tents and clothing. All of these had knock-on effects on people's health, from digestive issues from lack of food to an increase in skin infections due to unwashed clothes and an inability to shower. You can read an article about the CoronaCapitalism and the Border Regime in a European context here.
In October, I emailed people on my newsletter about the death of a Kurdish family we met who lost their lives at sea – the parents and two children all drowned, as well as a baby whose body has never been recovered 🙁 This was after Abdulfatah Hamdallah, a 28-year-old from Sudan was found washed up on a beach in Calais in August. Mohamed Khamisse Zacharia, a 20-year-old who left a refugee camp in Sudan to come to Europe, was killed on a motorway; hit by a car while he was trying to escape the police gas from the back of a truck. His friends wrote a tribute here. We have heard of other deaths in the jungle that do not make the news.
Despite the conditions, migrants continuously organise and resist the conditions, and above all resist the border regime by continuing to cross the channel by land and sea. We try, as a tiny crew, to organise solidarity where we can.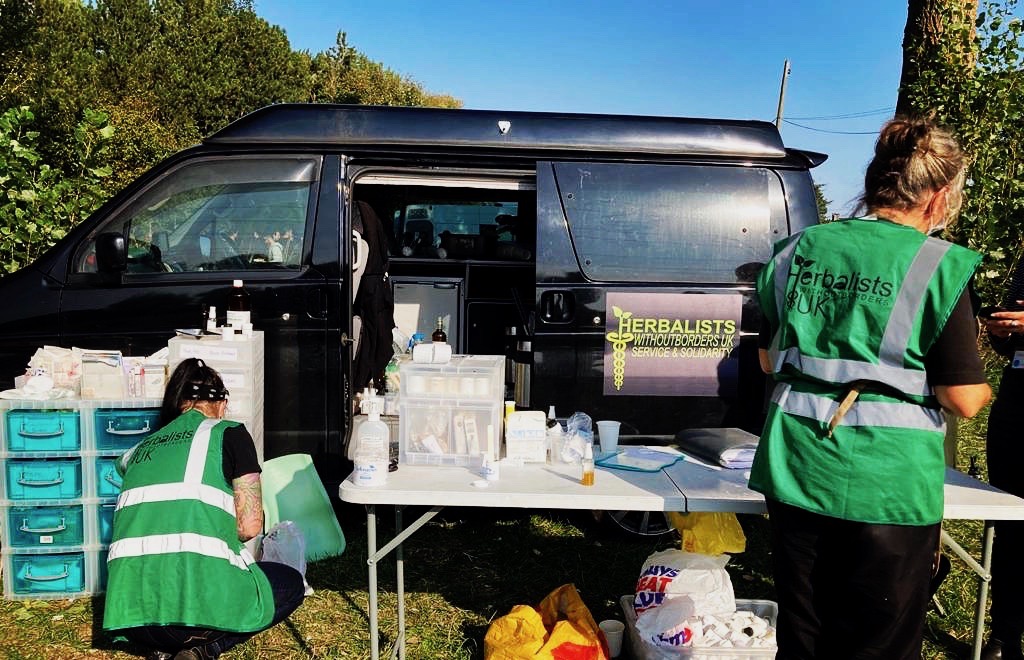 2. Prisoner Solidarity with the Prisoner Herbalism Collective
In May, I shared a call-out asking for people to get involved in a new Prisoner Herbalism Collective that can help support prisoners to learn more about herbalism. A small crew was formed and their efforts have contributed powerfully to getting copies of the Prisoner's Herbal book to people in prisons around the world.
We have distributed more than a thousand Prisoner's Herbal books – many have gone to existing Prisoner Book Projects, others have been requested from friends and families of prisoners. All have been given for free. The printing and postage cost all being paid by donations and book sales on the outside.
This Autumn, we were featured in the Black and Pink newspaper that went to 20,000 LGBTQ prisoners across the US. We started a PO Box in New York and are now about to send books to everyone that has requested one. We are now in the midst of fundraising for the next print run!
A small group of herbalists are also working on an addendum for the Prisoner's Herbal so that it is adapted to the different bioregions and herbal lineages across North America (no small challenge). The book is in the process of being translated into French, German, Spanish, Serbo-Croatian, Greek, Italian, Russian and Arabic. Ooooof!
Many prisoners are now going on to study with the CommonWealth School of Herbalism in Boston that offer a free distance learning program to prisoners.
I am so grateful to everyone who has sponsored a box of Prisoner Herbals, or bought a copy of the book (get yours here). Or those who simply shared the book with their local prison books project. If you would like free copies for people in prison please use the request form here: https://solidarityapothecary.org/prisonersherbalrequest/

3. Supporting organisers and people experiencing repression with plant medicines
I need to get better at tracking the medicines I gift to people experiencing repression! Over the year, I supported some close friends who had recently been arrested and raided with some plant medicines, including my Brave Heart Blend (hawthorn, rose and lemon balm). I also sent a court support herbal pack to a group on trial in February for resisting JCB, complicit in demolitions in Palestine.
In February, I launched a fundraiser selling merchandise in response to a Herbal Medicine Drive call for Gidimt'en Checkpoint. The Gidimt'en is one of five clans of the Wet'suwet'en Nation that is resisting the Coastal Gas Link pipeline. Learn about their struggle here. We raised $493.22 CAD that was sent to Métis herbalist Vanessa Prescott who prepared a huge package of herbal medicines for immune and nervous system support for those at the frontlines.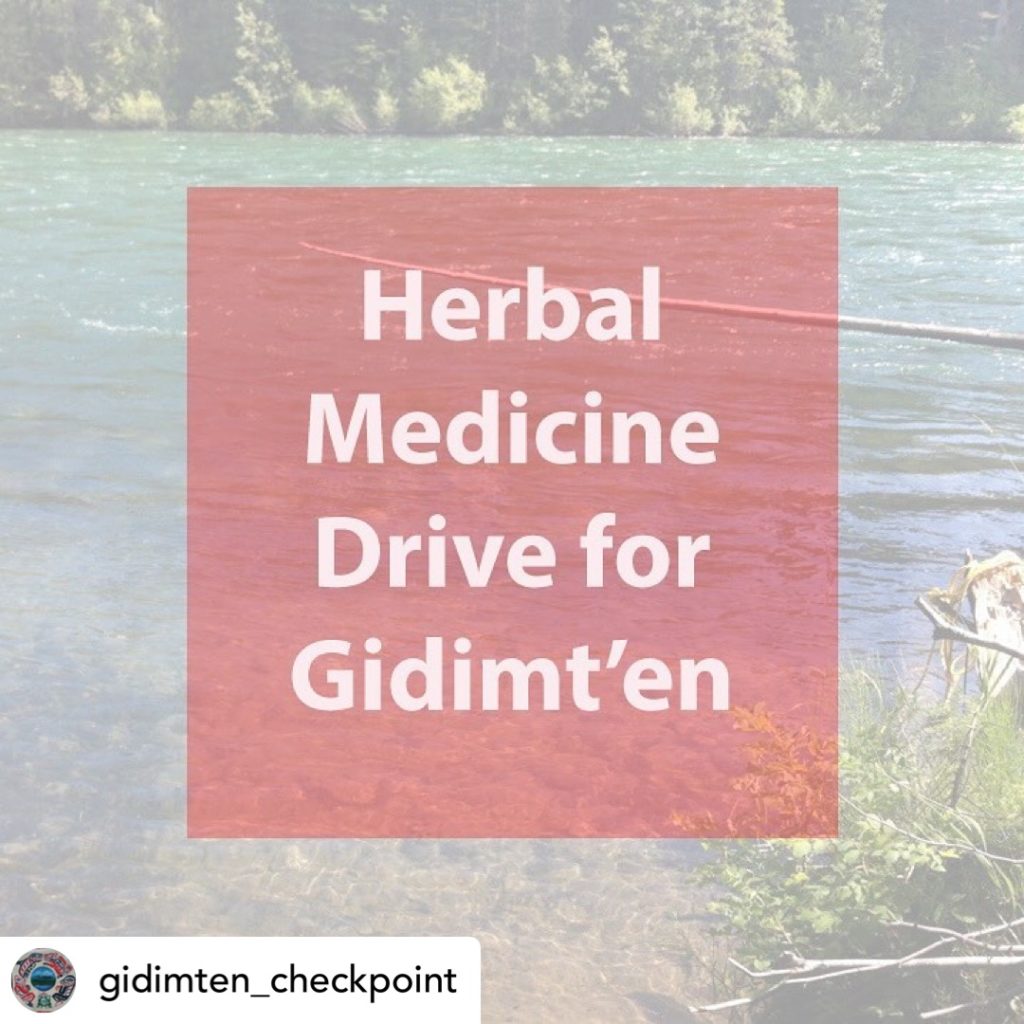 In August, I made litres and litres of infused lavender oil, with olive oil from from the Zaytoun farmers cooperative in the West Bank. I wanted to support farmers in Palestine that are surviving and resisting colonial state violence. Learn more here. So far lavender oil has been gifted to people leaving prison, migrant workers surviving the aftermath of the explosion in Lebannon, an abortion solidarity group, and to refugees resisting the border regime in Calais, France. You can buy some here.

Herbal Solidarity for HS2 resistance
Before the pandemic, I also made it to the Earth First Winter Moot which was at a HS2 protest site resisting the destruction of woodlands to make way for a high speed railway. I left the crew there with medicines to help get through the winter.
In October, I sent a package of herbal support to 25 people at Jones Hill Wood, a site of resistance against HS2. They shared this:
"The Jones Hill eviction has been an exhausting, horrible, incredible experience. As a community we stood together, we held out in the trees for a week and forced the NET (national eviction team) to get the police in to remove us on bullshit charges because they could not deal with us themselves. We beat the bailiffs here and that always has to be seen as a victory. But we have also been removed from our homes, watched the spaces we have built over the last 6 months ripped apart, and experienced violence at the hands of the state, or watched it enacted on our friends. Bailiffs twisting people up and coppers hitting folk isn't new or special, and it's a small taste of the states violence in comparison to the experiences of criminalised people in the UK and around the world, but it has taken a massive toll on many of us.

The eviction has meant a huge amount of stress and pressure on people, on the ground and in the trees. The lack of sleep and decent food, and general stress of constantly being ready to respond to events has left a lot of us pretty fried. Solidarity apothecary has provided everyone involved in the eviction (not just those in the trees, we recognise the immense stress that those doing less 'glamorous' or visible work on the ground were also under) with herbal remedies to boost the immune system, fight infection, and cope with residual stress as we recover together from this experience. Nicole has also sent us all a copy of her book, overcoming burnout – this we believe will be extremely helpful in setting the tone of our conversations as a community about how we are going to move forwards from this eviction and continue to fight against HS2 as a strong, healthy community that look after each other".

– Love from the StopHs2/TINAAR crew
Badger Cull Herbal Solidarity
The Badger Cull took place yet again this autumn – a massacre of these beautiful wild creatures across England. More than 60,000 were predicted to be killed. For people sabbing the cull, it is a test of physical and emotional endurance. For those taking action in the night to defend badger setts, they face sleep deprivation, colds and flu, sore muscles and more. This year the risk of coronavirus was added to the mix.
I ran my second year of herbal solidarity for sabs, sending boxes of care packages to groups across the country.

4. Herbal Solidarity during Uprisings
In Mid May, I launched Books for Bail Bonds whereby all the proceeds from sales of my books were donated to bail bond funds in the US. 70% of people in jail are awaiting trial because they cannot afford the hundreds to thousands of dollars for bail. During the pandemic, efforts escalated to get people free all over the US. $1316.16 was raised in two weeks.
At the end of this effort, the murder of George Floyd hit the news and rebellions erupted all over the United States (and beyond) in response. I decided to extend the fundraiser and launched #Jail Break June which raised $885. This was distributed to BIPOC herbalists, a jail mutual aid fund, and herbal street medic space at an occupied zone in Seattle (see my Instagram post on June 28th for a full list and links!).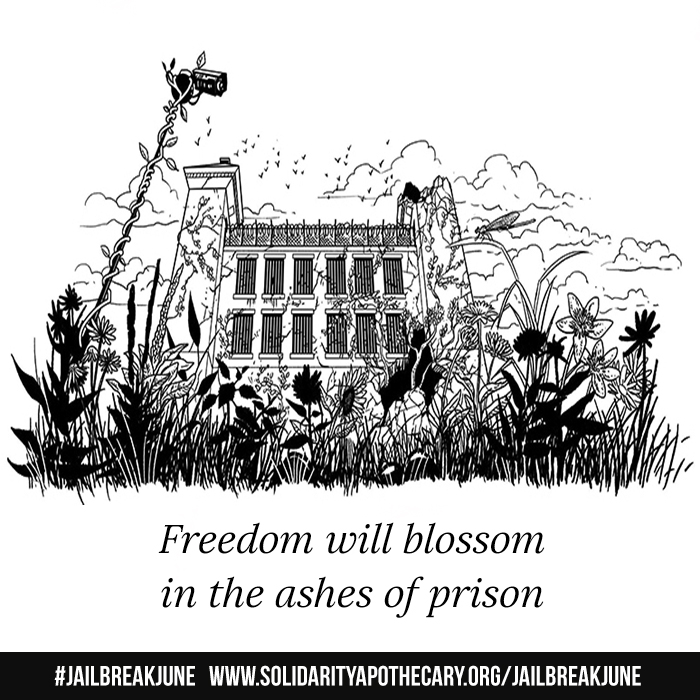 Plant medicines were also donated to Herbs Heal Hearts, a herbal initiative prioritising Black families in the UK set up by the amazing Jungle Bae. Cough syrup and antimicrobial vinegar were also donated to the Shadow Sistxrs Fight Club and the Apocolypse Apothecary that organised Solidari-Tea: Herbal Mutual Aid for Black Folks in the UK.
In September, I launched a fundraiser for Belarus Anarchist Black Cross selling t-shirts with the design 'Solidarity is peoples' self defence'. Thousands of people have been detained following the uprising in Belarus this August. Many are experiencing beatings, torture, rape and sexual assault. One person was murdered. Despite the repression, people continue to fight on the streets. Order a t-shirt here.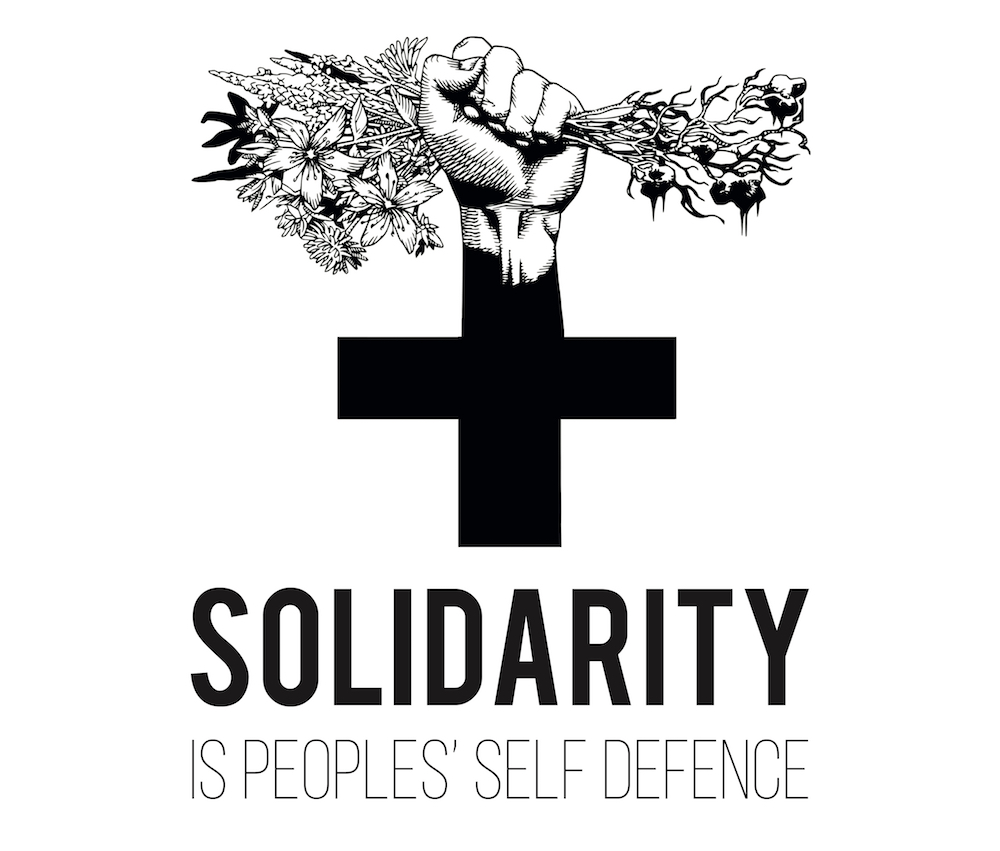 5. Creating the Herbalist Mutual Aid Directory
In March, I launched a call-out for herbalists to add themselves to a new Herbalist Mutual Aid Directory.
The Directory aims to create a comprehensive directory of grassroots herbal medicine support available around the world during the COVID-19 pandemic.
It lists existing community herbal projects, as well as newly formed mutual aid initiatives. It also creates space for individual herbalists to share sliding scale offerings, however small, to individuals and communities in need.
Check it out here: https://solidarityapothecary.org/directory/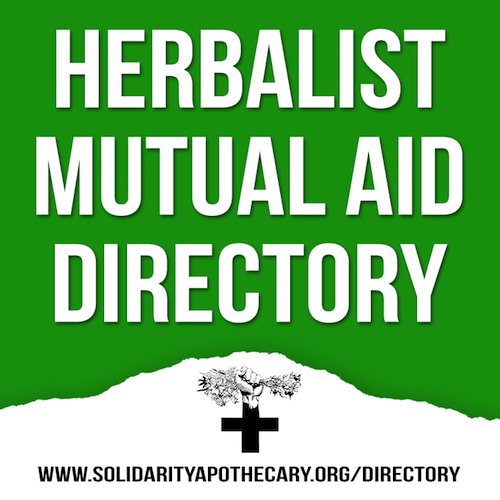 6. Anarchism & Care Tour and other online events
In February, on the eve of the pandemic, I did a small speaking tour in Ireland. Unfortunately, I had to cancel the event in Dublin because of a close friend trying to kill themselves in prison 🙁
The tour (ironically, given what was about to happen) was all about collective care, mutual aid, supporting people with chronic illness, prisoner solidarity and grassroots herbalism.
In September, I facilitated a workshop on Herbalism and State Violence at the New York City Anarchist Bookfair (which I will eventually upload to share!!).
I was also grateful to be interviewed on various podcasts including We Speak of Freedom, Eat Weeds, Elephant in the Room and Rise Up Good Witch.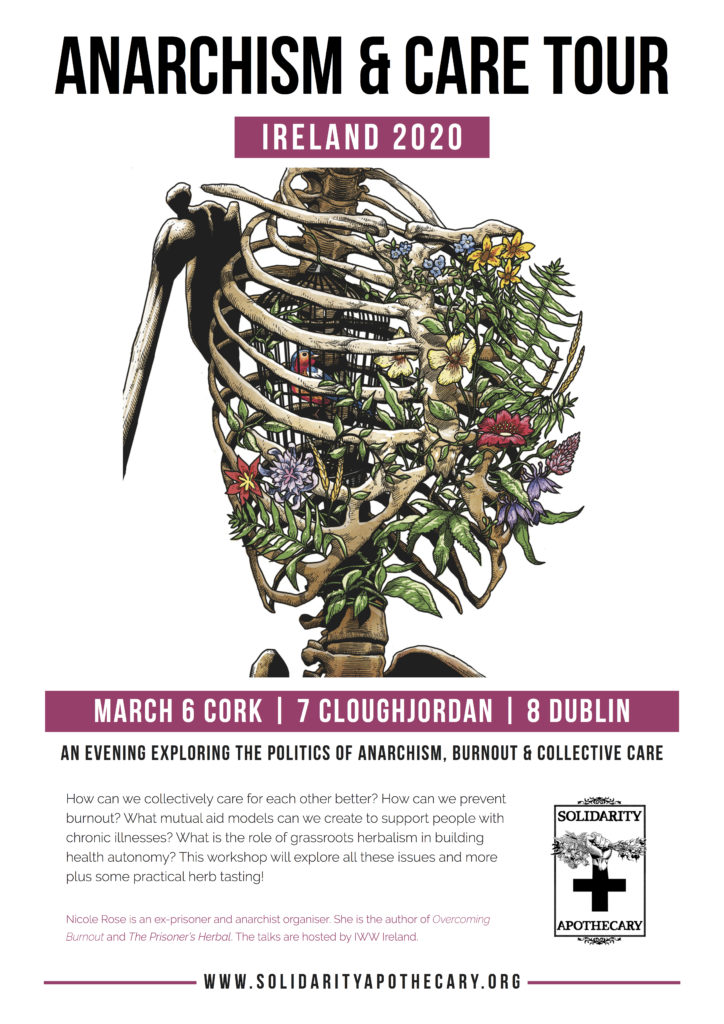 7. Embracing my Clinical Herbalist Training
The undercurrent of my year has been my clinical herbalist training. From zoom clinics, to online lectures and days and days of assignments. I've had serious growing pains and every day I feel more humbled by the world of medicine and its complexity.
I am so grateful to the adaptability of the Plant Medicine School in Ireland and all the experienced herbalists I've learned from this year. I'm very lucky to learn from a whole group of bad-ass herbalists including Nikki Darrell, Jane Wallwork, Jo Goodyear and Marie Reilly in Ireland, as well as the amazing Melissa Ronaldson and Dedj Lembrant in England (plus all the other herbalists that I've met in Calais).
8. Publishing the Medicinal Herb Colouring Book
I was so excited to the launch of the Medicinal Herb Colouring Book this November! The project was a labour of love with my close friend Amani Omejer who drew the beautiful illustrations of more than 50 medicinal plants. Every illustration is accompanied by descriptions of the medicinal properties of each plant.
The books will be sent to prisoners around the world.
Check it out here: https://solidarityapothecary.org/launching-the-medicinal-herb-colouring-book/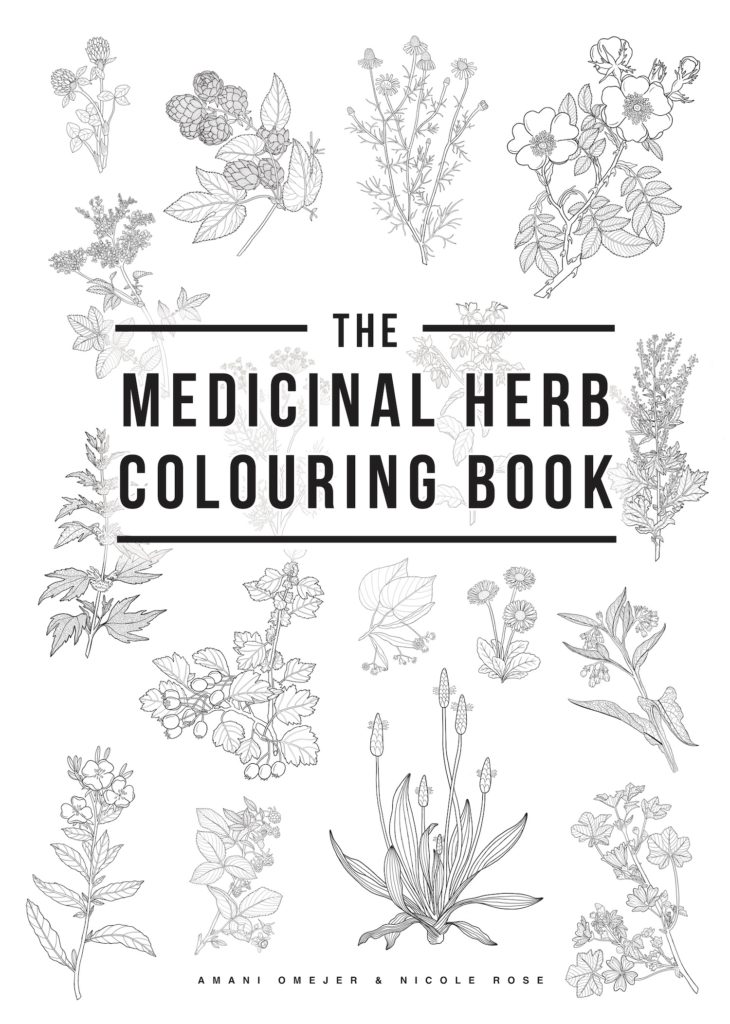 9. The things that didn't happen…
With the pandemic in full swing, many things were not possible, like collective gardening, medicine making and workshops.
The demands on my life beyond the Solidarity Apothecary also escalated and I constantly felt up against it in terms of time and energy, trying to juggle so much organising and prisoner support with my day job and clinical training. I felt so much heartache missing my friends in prison.
I did not manage to finish the Herbalism and State Violence Book – I have some incredible contributions from around the world but haven't managed to spend the dedicated time needed on my written chapters.
I also didn't design the Herbalism for Organisers online course but it's on my goals for 2021. Watch this space!

10. Grief and Gratitude
I finish this post with a heavy heart, thinking of everyone who has lost a loved one during this pandemic. Including my Grandad who we lost this year.
I have a heart full of grief for everyone killed by state violence, by the police, in its prisons and on its borders.
There are so many people I am grateful for this year! A huge thank you to my incredible Mum who offers so much support, from trips to the post office to meals outside my door while self-isolating from Calais. Likewise, to all my beloveds, comrades, close friends and partners – your support means the world.
A massive thank you to everyone who has donated to the various fundraisers, who has bought a book or shared posts on Instagram. To the generous people who have sponsored a box of prisoner's herbals and helped organise postage to prisoners. Everyone in the Prisoner Herbalism Collective whose efforts have been mammoth in terms of getting the books to people inside. And a huge thank you to Rebel Soul, Necessity, and Sean Roy Parker from Fermental Health who have all organised generous fundraisers to help this work happen.
If you support the above work and want it to keep going in 2021, please consider becoming a regular monthly supporter – https://solidarityapothecary.org/support/