This Monday I got back from a week away in Calais and Dunkirk in France with Herbalists without Borders UK. I was there as a student being mentored by the inspiring herbalist Melissa Ronaldson who has more than two decades experience in the field.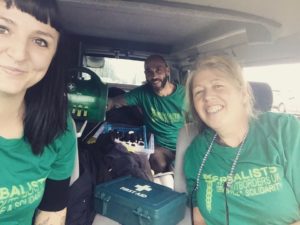 Our work there involved supporting migrants and refugees with first aid and herbal medicine. After evictions of the jungle in Calais and camp at Dunkirk people are mainly living in woods and the edges of industrial estates in the city. People commonly came to us with wounds and infected bites, blisters and foot injuries, coughs, colds and other respiratory conditions, as well as toothache and all manner of other health needs from living in such awful conditions outside, being beaten by cops and making attempts to cross the border. There were also people incredibly sick from being in the sea, either from trying to swim across the channel or from sinking or intercepted boats.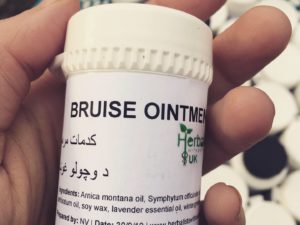 Our role was also to signpost to local clinics that offered a service for people without papers and we also drove some people to hospital. Many people, especially new people arriving, have no idea where or how to see a doctor or are too frightened to seek help for legal fears. We distributed cough syrups, chest ointments, bruise ointments, antimicrobial vinegars and bespoke creams when needed and helped people to clean and dress wounds where appropriate.
We saw more than 270 people over the week and heard many harrowing stories of people's experiences coming from Iraq, Kurdistan, Afghanistan, Eritrea, South Sudan and Iran. It was a beautiful experience to see the mutual aid between people and the help people gave us in terms of translation. While our work sometimes felt like a drop in the ocean in the face of the border regime, it also felt urgently needed.
Herbalists without Borders UK will be going to Calais every month this winter but need material support in terms of donations and medicines. Email me if you think you can help – info@solidarityapothecary.org 
Check out the Herbalists without Borders UK website here: http://herbalistswithoutborders.co.uk/
You can also find your nearest chapter on the international website: https://www.hwbglobal.org/