I'm so excited to finally launch this workshop!
Glycerites are mixtures of medicinal substances with glycerine. They are a fantastic way of making herbal medicine accessible for the many members of our communities who avoid alcohol; people in recovery, pregnant people, children, people of Muslim & other faiths, and people unable to tolerate tinctures due to health reasons.
Despite huge demand, glycerite making can still be a mystery.
This online workshop explores how to make herbal glycerites in simple and effective ways.
Learn:
What is glycerine? How is it made? How has it been used in medicine? Is it sustainable?
All about glycerine's medicinal properties, energetics and how it is metabolised in the body
Which herbal constituents glycerine loves and what medicines can glycerine be used to make
All the practical elements of glycerite making (cold, warm, fresh herbs, dried herbs, multiple herbs and more).
Learn how to make cough syrup, indigestion lozenges and more using glycerine
Troubleshooting and preservation
The course involves four videos, handouts and downloadable slides. Every video is subtitled and transcripts are available to download.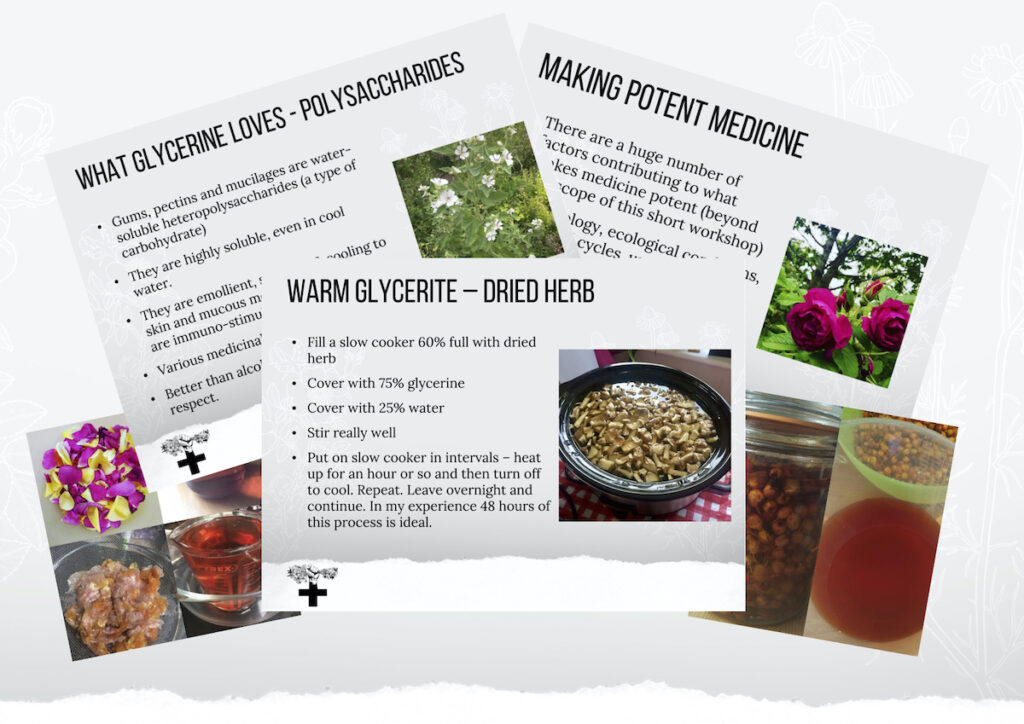 Commonly Asked Questions
How much does the course cost?
The online workshop is £45. Your course contribution goes towards sustaining the Solidarity Apothecary, learn more about the project here. There is a sliding scale (see more information below).
I'm so overwhelmed and don't have the time. How long is the workshop?
There are four short videos (8:40, 20:48, 14:02, 34:47). Trust me, I'm not a waffler! The information has been presented clearly and simply. The slides and how to handouts are available to download so you can access the information you need quickly and easily.
I can't afford it
No one is turned away for lack of funds. The Solidarity Apothecary is an anti-capitalist project. Yes, I need funds to survive capitalism as much as anyone else and your course contribution will enable me to continue to support people experiencing state violence as a herbalist. But accessibility is fundamental to this work and the values of the Solidarity Apothecary. Please use the code SOLI50 for 50% off or SOLI100 to access the workshop for free if you are unable to contribute financially right now.
I don't have much experience with herbalism, is this course for me?
Yes! I have tried to use accessible language, include definitions and explain 'herb geek' words. The workshop has been created for people with some herbal knowledge and medicine making experience, however, if you are new to herbalism, I think it's also a great introduction and will hopefully inspire you to keep learning about herbalism!
Isn't glycerine a horrible industrial by-product? Why would I want to make medicine with it?
There are different kinds of glycerine – synthetic or industrial glycerine and organic glycerine (made from fats and oils from organic plants). I dive into the differences between them. The workshop explores issues such as biofuels, intensive agriculture and the energy it takes to produce synthetic glycerine. I also introduce how organic glycerine is made and its lower-energy methods of production.
Can't I just find this information in a herb book?
When I started, I struggled to find instructions in herbal medicine making books. I tried what they recommended but would come up against issues – glycerites not being very strong or preserving what I needed them to, occasionally going mouldy, or taking a long time to make. I have spent years experimenting to make potent glycerites. I have tried every ratio under the sun of water to glycerine. I have experimented with warm glycerites using stoves, jars, slow cookers and more! I have finally settled on very effective methods that work over and over again in making potent herbal medicine with glycerine.
How long will I have access to this course?
There is no time limit. Once you have registered you will be able to keep returning to the videos as many times as you need.
How do I sign up?
Sign up here: https://solidarityapothecary.org/product/glycerinecourse/